A technique for getting you unstuck, keeping you on track, clearing your mindset blocks, motivating you to take action and generating forward momentum.
A holistic philosophy that combines coaching, teaching, and mentoring with a design mindset focused on your business model, strategies, and organizational structure.
a collaborative, simple, organized, intuitive, and fun mix of structure and free-flowing creativity focused on your vision and the daily details.
An inspiring growth experience: designed for happiness, optimized for life, created for impact, planned for profit, and driven by authenticity.
For solopreneurs, hiring a business coach means having someone to:
→ answer questions
→ educate you on the basics of business
→ brainstorm marketing ideas
→ create client management systems
→ design service programs
→ find ways to keep your spirits high
Hiring a coach also means you'll have someone who can help you stay safe while pushing your psychological and emotional boundaries and expanding your skill set and knowledge base.
A coach can be the missing key to unlocking your success and escaping a rut you've fallen into.  By getting you out of your comfort zone, strengthening your integrity zone, and helping you balance being too scared of a challenge or too quickly implementing an unclear idea/concept, a coach can truly enrich your business ownership experience.

The world of business is a big space. It's not always easy to know where to go or how to go about making decisions, encountering new situations, and tackling ongoing challenges.
There are many benefits to having a business coach, especially when you're feeling unsure about which decision is the best one. After coaching for 15+ years I know the hidden potholes and the secret shortcuts and I'm able to blend my own business experience with the wisdom gleaned from coaching hundreds of clients and use it to help you create the best business possible.
We can work together to:
→ increase your confidence
→ decrease your stress
→ get you more of the right clients
→ create a clear and focused path forward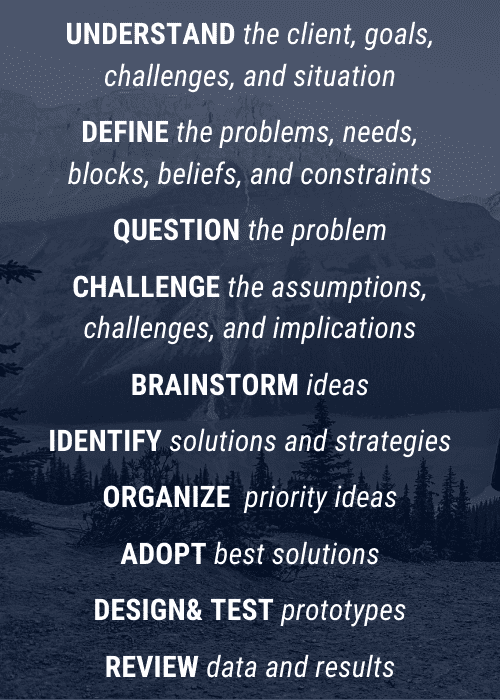 BUSINESS OWNERSHIP IS AN ONGOING EXPERIMENT OF LEARNING AND APPLYING KNOWLEDGE.  - Coach Erin
At the heart of my approach are human-centered coaching techniques and design thinking methodologies. By understanding you, how you interact with your business and the conditions in which you operate, I'm able to help you improve your satisfaction, fulfillment, and success.
I want to ensure we work on the real problems and often view the problem you see as a suggestion of what the real issue is. By questioning challenging things, together we will study the problem deeper and ensure we do not blindly solve problems we "think" we are facing but solve the root cause of the problem. This leads to a solution that often resolves more than just the original challenge. And, it means you'll have new ways and systems to solve future challenges too.
Coaching is not hierarchial or a sequential step-by-step process. These stages do not occur in a specific order and can occur parallel and repeat. Each action contributes innovatively rather than logically or sequentially.
CREATE A PATH TOWARD SUCCESS
develop your ideas and organize solutions
Don't wait till you're certifiably exhausted before hiring a coach. Keep your confidence from dropping and your self-doubt from rising.
My coaching style is less "you need to do this" and more "let's work together on this by first figuring out X, Y, and Z." I will offer you many choices but I won't make decisions for you, I'll help YOU make YOUR best decisions.
As your business coach, I work in a creative partnership with you. I treat all my clients like true business partners.  My goal is to do whatever I can to help you craft an "authentically you" business that supports the lifestyle you want to live and the goals you want to achieve.
I serve as a conduit of knowledge and understanding. I apply the knowledge and wisdom I've gleaned from my own decade+ journey as a business owner with that of my hundreds of clients to you and your business.
Our work together will revolve around my deep interest in understanding you and the clients we're designing your brand, services, and marketing for. I want to learn about your needs, behaviors, and life situations.
I will listen to your ideas, perspectives, and opinions and will help you find a way to integrate them into your business. I'll look for repeated struggles to define core challenges and root issues. I'll also challenge your assumptions and help you find new ways to see and solve problems.
My ultimate aim is not to just solve problems or achieve goals but to provide you with long-lasting skills to continue to overcome challenges, create opportunities and say "yes" to possibilities.
a business built to make a purposeful contribution to society that solves problems, drives change, and makes a lasting impact on the world
dedicated to building strong customer relationships and designing services and marketing with empathy and respect for the client
 intended to support an ideal work-life balance with less focus on financial gain and more focus on personal fulfillment and satisfaction
I've built my brand on my passion for discovery. My brand is intended to inspire the exploration of new and better ways of doing things, uncover the hidden potential in people, things, and situations, and reinvent and experiment with new perspectives.
BRAND VALUES:

→ FUN
→ INSPIRATION
→ AUTHENTICITY
→ PRACTICALITY
→ ADAPTABILITY
→ SPONTANEITY
→ CREATIVITY
I have released a whole lot of crap and gained a ton of clarity through coaching. I'm no longer feeling stuck. I'm moving forward with things I was resisting in my business. It feels good to do business the way that feels right to me. 
Alicia Fields
I met Erin when I was frustrated and overwhelmed. I was lost. I was blown away by the energy and ideas that flowed in my first session. I left with clarity, enthusiasm, and a feeling of knowing I can be successful.
Barbara Haines
I am so far ahead of where I was. I am honestly flooded with emotion. I did not expect so much progress in just 2 weeks. I feel reignited in my passion and powerful in my purpose. Erin's excitement is contagious.
Blanca Rios
I really love the business card we designed, they are SO much more ME! I'm going to be proud to hand these out for sure. My husband is even impressed with the branding and card. Thank you for so much support of my business.
Lisa Hall COACHING │ EDUCATION │ DESIGN │ DEVELOPMENT │ INSPIRATION
WEBSITE DESIGNED AND DEVELOPED BY COACH ERIN
© 2003-2022 - IT WILL BE LLC./COACH ERIN